Here at ChiIL Mama we make a point to volunteer with great arts organizations and charities. And we're happy to publicly thank other individuals and businesses who step up and help locally, too. Next week Sage will return for her 2nd year of Girls Rock! Chicago Camp. They're an amazing, grrrrl centered, creative, empowering program. They run on grrrl power and on volunteer power, and keep things sliding scale so nobody will be turned away for a lack of ability to pay!
Want to help locally? They're still looking for volunteers of time and money.
Here are their upcoming events and a thank you list to those stepping up already. Volunteering is good for your mind and soul!
Check out some of ChiIL Mama's Past Girls' Rock Coverage here:
GR! Chicago benefit 2011-Minutemen cover band Econoline-photo filled recap
GR! Chicago upcoming benefit-Fugazi cover band
Final Showcase at Metro--Flip Cam Recap of All 18 Bands-Session One

END-OF-CAMP EXTRAVAGANZA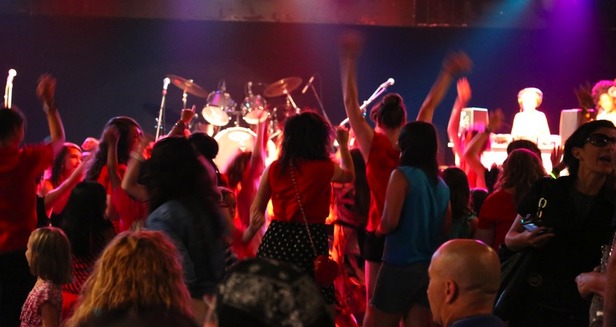 Saturday, July 28th
| Doors 1:30pm & Show 2pm
Bottom Lounge: 1375 W. Lake St.
|
Chicago, IL

All Ages! FREE for kids age 8 and under!
If you missed out on the phenomenal first session's
End-of-Camp Extravaganza
, breathe a sigh of relief knowing July's campers will be rocking Bottom Lounge on Saturday, July 28th. Session two of Girls Rock! Chicago summer camp 2012 will produce 18 camper bands who will spend the upcoming camp week turning original tracks into hours of entertainment for the showcase. Don't miss out! Doors open at 1:30pm and the rock stars of session two will take the
Bottom Lounge
stage at 2:00pm. Be sure to arrive on time to catch the carefully selected track lists of our newly minted camper DJs! Every great show should begin with a dance party!
As always, this event is ALL AGES and super family-friendly, so bring the whole crew.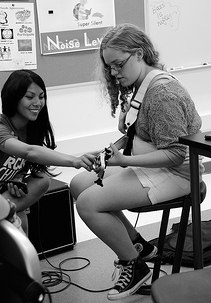 There are still volunteer roles available for next week's rock camp! If you know anyone interested in empowering our campers, point them toward our online application or contact Volunteer Coordinator, Molly (molly@girlsrockchicago.org) directly, to be sure we have everything we need in time for camp on Monday!

We're specifically seeking instrument teachers (bass & keys) and an on-call nurse or doctor who can make themselves available next week.
GRAB THE CARDBOARD BOXES: GR!C IS MOVING!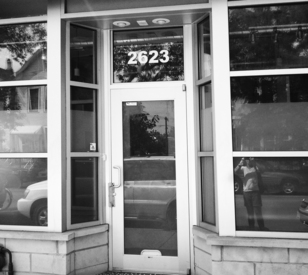 Between noon and 4pm t

his Saturday, July 18th, GR!C will be boxing up all merch' and manilla folders and moving 'round the corner to a sunny little storefront at

2623 W. Armitage

. We're excited to occupy a new setting, but please keep sending us potential space suggestions. This move is only temporary as we'll continue searching for a space to accommodate year-round programming post-camp.
If you're available to pack boxes or move a couple quick loads, please email

joan@girlsrockchicago.org

. We have the van, but we could always use an extra set of hands!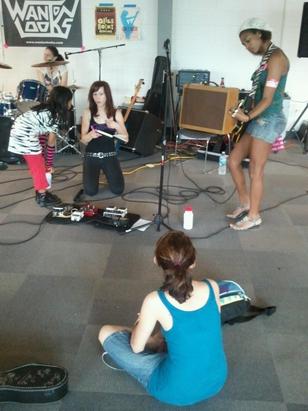 THANKS TO
CAMP KICK-OFF
&
CAMP WEEK BANDS!
Our campers enjoyed quite the variety of music throughout session 1 as well as during the Camp Kick-Off event on June 23rd. From mariachi to hip-hop and ska—our guest performers got even the sleepiest campers tapping their toes throughout the afternoon live shows. Bands stuck around to sign autographs and even (as seen in the photo on the right with campers and The Wanton Looks) let campers test out their gear.
Special thanks to all our past camp performers and next week's session 2 performers for taking the time to entertain, inspire and motivate our campers:
CAMP KICK-OFF BANDS:
GR!C has a super long list of thanks to shout-out to the masses after such a fun-filled first camp session for 2012! The first of many goes out to all our wonderfully talented volunteers, without whom rock camp could not happen. (Sweet sketch to the left courtesy of GR!C's Volunteer Coordinator, Molly Walsh, who says, "THANK YOU!"
[MORE THANKS!]
SPACES, PLACES, POSTERS & TASTES
Our smooth first session can also be credited to the supportive administrative staff at Chicago Quest. One administrator at our host school, Jason, spent several hours moving and assembling gear, while Principal Michael coordinated all-hours school entry/exit logistics and Education Director Sybil came out to Bottom Lounge to speak and show our June rockers support—an amazing group all around.
Thanks to the awesome folks at Guitar Center, Jason and our volunteers had plenty of gear to assemble! Because they generously addressed our gear needs prior to session one, we're plenty prepared for our session 2 campers! Special shout out to our new friends, Guitar Center's Carlos and Vic, who personally delivered several new drum kits and took the time to assemble each.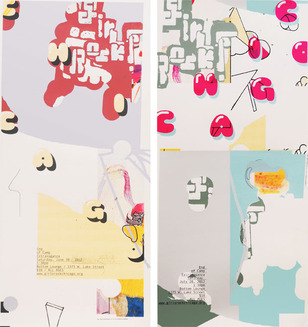 GR!C was thrilled when
Nick Butcher & Nadine Nakinishi
of
Sonnenzimmer
studio agreed to design the posters for our June and July 2012 End of Camp Extravaganzas. The talented printmakers are known for producing hand-crafted posters that go beyond simply publicizing upcoming events. Instead, their works of art achieve a highly-coveted collectors' item status as soon as they're lifted off the press. Each lucky GR!C camper receives their session's 6-color screen print at the camp week's end, but we certainly keep backstock available for the super fans who come out to shows and events for their own copy. If you're as big a fan as we are, we recommend you visit the merch table during the 2nd session showcase at
Bottom Lounge (July 28th)
to claim your own one-of-a-kind Sonnenzimmer poster.
Thanks, Nick & Nadine!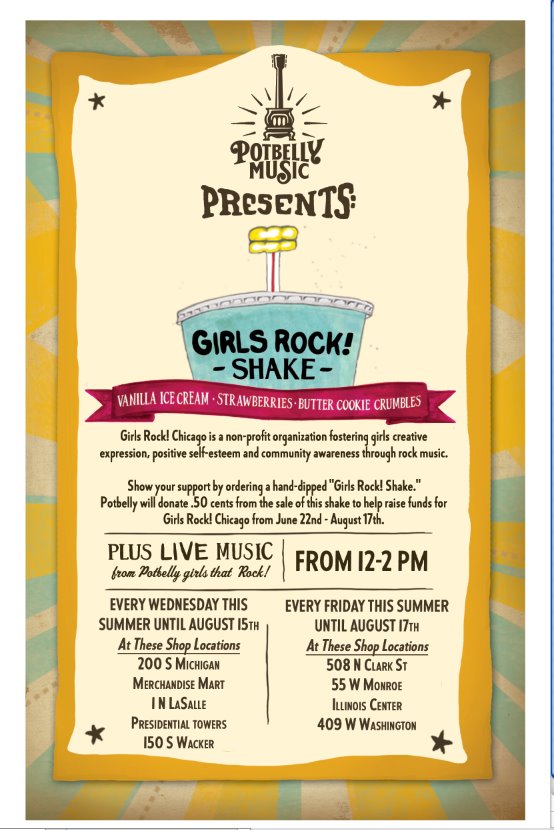 HAVE YOU "LIKED" GR!Chicago ON FACEBOOK? PLEASE DO!

...OH, AND TWITTER!